Legendary Horses
with lasting impact
A few of the Greats
JUAN DE SHAWN. With 153 of his get and grandget to grace the racetracks, the now deceased Juan De Shawn was sire of Darley Winners, plus other stakes winners in US, UK & UAE. He was also for many years a leading sire and top ten broodmare sire. He was acquired from Robbie Rogers in 1986, and stood and lived out his days at Weidel Boxwood Farm. The talent of this magnificent horse lives on in the Weidel-bred herd.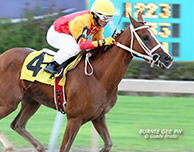 BURNIE GEE PW bred by Pam Weidel earned a Darley Nomination in 2008 for her outstanding performances on the track, including her win of the Delaware Park Arabian Juvenile Distaff Championship. In 2009 she racked up another stakes win in the Texas Arabian Oaks, and with earnings over $73,000 earned another Darley Nomination. She went on to become the dam of numerous stakes winners in USA and UAE.
DJOLLY GOOD ($85,070 in USA, Darley Nominee, exported) by DJENDEL, was bred by Pam Weidel, out of the Weidel Boxwood 2-time winning mare Bygosh Bygolly. Bygosh Bygolly also produced stakes winners TOUTE DE SUITE (4/34(9-7-6)1-6) and BURNIE GEE PW (above), the outstanding endurance horse Getcha Good PW, and multi winner Gotcha Covered PW, all bred by Pam Weidel.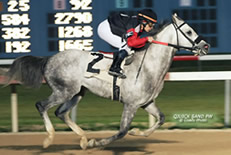 Another Weidel-bred stallion QJUICK SAND PW ran away with earnings of $151,377. He dominated the racetracks as 2009 leading earner in USA. He won the title of USA CHAMPION in two out of eight categories at the Darley Awards- DARLEY CHAMPION FOUR YEAR OLD COLT, in addition to DARLEY CHAMPION SPRINTER. He is by BURNING SAND out of the Weidel Boxwood mare Doya Juana Dance, by Juan De Shawn. QJUICK SAND PW won the Delaware Park Arabian Juvenile Championship and was a Darley Nominee in 2008. In 2009 he won the Drinkers of the Wind Derby and the Texas Six Shooter, and was stakes placed in the Bob Magness Derby, Ferndale Arabian Stakes, and the Texas Arabian Derby.